Dusty Carson, Pastor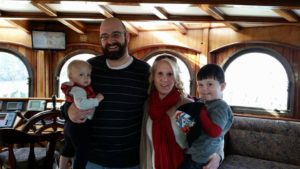 Dusty joined our church family as the pastor in June 2016. He and his wife, Heidi, have two small children and met while attending Liberty University where Dusty received his Bachelor of Science degree in religion. He later received his master's degree in pastoral ministries from Caskey School of Divinity at Louisiana College. Dusty has a heart for connecting people with Christ. His goal every Sunday is to encourage and challenge people to find the abundant life found in Jesus Christ. Dusty is also an avid Dallas Cowboys and Mavericks fan. He prays that Washington Redskins fans will see the light and become Dallas Cowboys fans.
Thomas Delaney, Youth Minister
As the Youth Minister, Thomas oversees the teaching and fellowship activities of the youth.  He and his wife, Jessie, have one child.  Thomas served as Associate Pastor at Our Lady of Lourdes Parish Tweh Farm and St Dominic's Parish Tubmanburg in Liberia, West Africa.  Thomas has a Bachelor's degree in Theology from St Paul's Catholic Seminary in Ghana, West Africa and a Master's Degree in Theology from St Peter's Regional Seminary also in Ghana, West Africa.   Thomas is also currently employed with the Virginia Department of Juvenile Justice as a Rehabilitation Counselor helping to make a difference in the lives of delinquent youth.  As evident through his work, Thomas has a passion for helping youth to make positive Godly choices in their lives. Click here to contact Thomas.
Tori Krein, Children's Minister
Tori began serving Massaponax Baptist Church in the Fall of 2012 as the church pianist and transitioned to the position of children's minister in the summer of 2014. She studied at Bluefield College and graduated with a Bachelor's Degree in church music. At MBC it is Tori's primary goal to teach the children and their families to follow God and live entirely for Him. She is excited about what is happening with the children's ministry and looks forward to watching these children grow both physically and spiritually.
Tori lives with her mom, Suzanne, and sister, Juli. In her spare time, Tori enjoys hanging out with her dog, Schroeder, and doing anything involving hiking, backpacking, and anything outdoors – even if it is just watching YouTube videos or reading books to learn more about it.