Two classes exist for young adults. For those having just completed high school or experiencing college, there's Transitions. For those slightly older, having already completed college or with young families, there's Career and Families. Currently, both classes meet together Sunday mornings at 9:30 a.m. Visitors are always welcome.
In addition to Sunday mornings, the young adults try to spend time together outside of church, at least once a month. Previous events have included Noodle Night, bowling, movies, cookouts and a Richmond Squirrels game.
Past events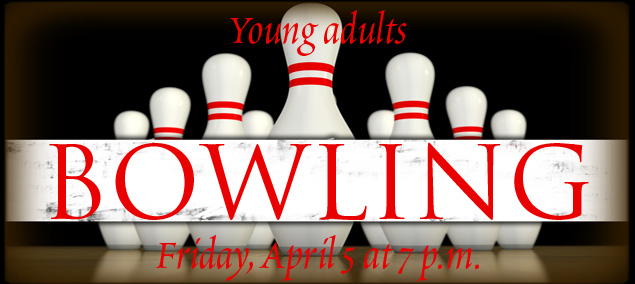 On Friday, April 5, the young adults went bowling together and had a great time of fellowship and fun, as seen below.

On Friday, March 22 at 7 p.m. at the church, the young adult classes gathered for "Noodle Night," a time of fellowship and games for those post-high school through early 30's. Participants were asked to bring a noodle-based dish.